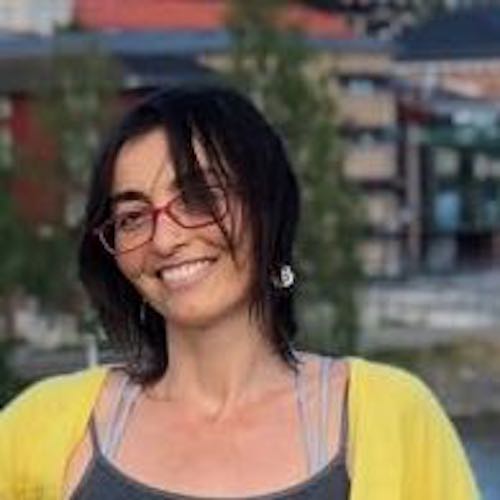 co-Director, Burdick 2023
Email: maite.salazar@bio.puc.cl
Maite Salazar is an outreach specialist and researcher at the Millennium Institute for Integrative Biology iBio. She holds a degree in Biochemistry from Universidad de Chile, Santiago Chile and a PhD in Community Agriculture, Recreational and Resource Studies from Michigan State University, USA. Her work combines outreach and academic scholarship in the field of science and technologies studies (STS).  She has been particularly focused on issues of public participation in science, socio-technical controversies, and science and environmental policy. Maite's research, teaching and outreach work has focused on the social dimensions of biotechnology, science policy and participatory approaches for environmental protection and empowerment of local communities. Her work often involves understanding issues from a multi or trans-disciplinary perspective and collaborating in diverse contexts.  
Since 2009, she has overseen initiatives promoting public dialogue, transparency and participation on issues surrounding the role of science in society. She led an outreach initiative to promote open, transparent public dialogue and access to information on plant biotechnology issues in Chile. Maite currently leads a community science initiative focused on community empowerment for sustainable practices, collaboration with small farmers in Calle Larga, Valparaíso Region of Chile. She is part of the research and outreach initiative Decidimos which aims contribute to public debate on the role of science and the climate crisis in Chile's new constitution. 
She is very motivated by teaching that aims to transcend disciplinary boundaries. Since 2018, she teaches a graduate course on public participation in science in the Master of Science, Technology and Society Program at the Universidad Alberto Hurtado, the first program in Chile to focus on science and society relationships. 
More info:
Decidimos.cl
Cienciaensociedad.cl
Transgenicos.cl 

Selected publications:
Tironi, M., Salazar M., Valenzuela D., 2013. Resisting and accepting: Farmers' hybrid epistemologies in the GMO controversy in Chile. Technology in Society 35(2):93–104. 

Salazar, M., Valenzuela D., Tironi M., Gutiérrez R.A. 2019. The ambivalent regulator: the construction of a regulatory style for genetically modified crops in Chile, Tapuya: Latin American Science, Technology and Society. DOI:10.1080/25729861.2019.1611992 

Salazar MP, Valenzuela D., Gutierrez RA, Protección y Acceso a los Recursos Fitogenéticos: Desafíos para Chile. Núcleo Milenio en Genómica Funcional de Plantas. Pontificia Universidad Católica de Chile, 2014, Santiago, Chile.